The Midnight Library
What if you got infinite lives to live out your regrets?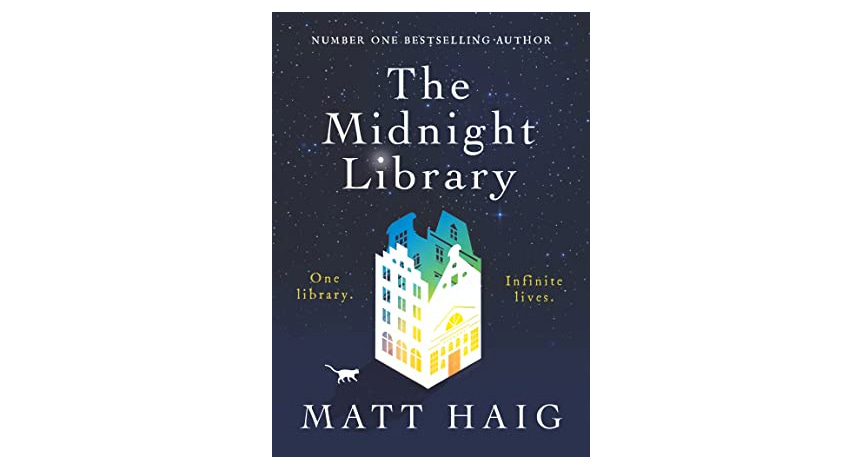 Sylvia Plath once said:
"I can never read all the books I want; I can never be all the people I want and live all the lives I want. I can never train myself in all the skills I want. And why do I want? I want to live and feel all the shades, tones and variations of mental and physical experience possible in my life. And I am horribly limited."
We have often wondered how differently things would have turned out if we had made certain decisions differently. If we had done things differently. Said certain things, not said certain things. Sometimes in despair we feel sure things would've been better if we had made different choices.
Every choice/action/decision is like a fork in the road that is our life. We forego an alternative that has an opportunity cost. We make decisions thinking we know where the foregone path leads.
What if we got a do-over? What if we could go back to a life where we had made different decisions. Would we be happier? Would things be different? Would we be satisfied?
Nothing is working out for Nora Seed. Her life has devolved into a state where nobody needs her. Her cat died in a road accident in the morning, her job is gone, her brother does not want to talk and her best friend is distant. Nora feels her life is unnecessary. She writes a rambling post on Facebook and then decides to die.
Between life and death there exists a grey space. That is the midnight library where Nora ends up. She gets handed her book of regrets while the librarian explains that Nora has the opportunity to revisit an infinite variations of her life in which she has taken decisions differently. The midnight library will hold until Nora ticks off all her regrets by visiting parallel lives and decide afterwards if she still wants to live or die.
And thus begins a chain of life hopping. Nora regretted she quit swimming so she pops into a life in which she didn't. In that life Nora is an Olympic swimmer and a motivational speaker who battles with depression and abandons her mother. Doesn't sound good. In another life her cat still dies from a heart condition even when she does not let him outside the house (so its dying was not her fault after all). In another life she marries her boyfriend and finds out he is cheating on her. She visits thousands of parallel lives seeking the one in which she is happy/satisfied.
The more lives she lived the harder it was to feel at home anywhere
But while she is undertaking these many journeys she is beginning to wonder: maybe everyone feels like this? No matter how successful or perfect on the outside maybe all everyone feels, on the inside, are acres of disappointments, hurts, rivalries and monotony but with flashes of wonderment and beauty.
Maybe is wasn't the lack of achievements that made her and her parents unhappy but the expectation to achieve in the first place.
The more lives she slips into the more it becomes increasingly evident that you can choose the choices but not the outcomes. It is impossible to live without hurting people despite best intentions.
Its hard to predict isn't it? The things that will make us happy
She has lives in which she partakes in the finest restaurants, achieves heights of fame, travels the worlds, enthralls millions but all of it, turns out, is meaningless without love
The universe tended towards chaos and entropy. That was basic thermodynamics. Maybe it was basic existence too
This is a beautifully written book with a deceptively sci-fi, surreal plot that has philosophical undertones. It is easy to mourn the lives we aren't living, easy to wish we had worked harder, loved better or handled our finances more astutely. But its is not the lives we regret not living that make us shrivel and wither and make us feel like our own and others people worst enemy. It is the regret. We cant tell if any of our alternate lives would have been better or worse. But our life is still happening as we meander in regret and its what's happening that we need to focus on. This book is a gentle reminder that we only need to be one person and we only need to feel one existence.
Of course we cant visit everyplace or meet every person or do every job, yet most of what we'd feel in any life is still available
---
A thought that struck me while reading the midnight library:
According to a Oxford University professor Roger Dunbar, humans were wired to know only a hundred and fifty people as that was the average size of hunter gatherer communities. That is the Dunbar Number
Social media is increasingly making us miserable and I've often wondered why. Is it too much stimulation? Feeling of vacantness after pointless scrolling? Or maybe why we hate each other so much these days is because we are loaded with so many non-friend friends on social media? More than 150 people.
---
These books are awesome too:
1) The Travelling Cat Chronicles (makes you laugh, smile and cry a little)
2) The 7½ Deaths of Evelyn Hardcastle (an enthralling larger-than-life murder mystery that fans of Agatha Christie will love)
3) The Boy, the Mole, the Fox and the Horse (short, beautiful, heartwarming and highly quotable pick-me-up picture book)
-Saima